Shine offers a fantastic fun-packed multi-sport themed birthday party package for children aged five and over.
Parties are 90 minutes, 1 hour activity and 30 minutes for food in the party room and take place on weekends. Hosted in the spacious Shine Community Sports Hall at Bristol, with each party designed around a sporting theme of the birthday boy/girl's choice or Nerf War Party. Shine will make it a party to remember for all family and friends.
PARTY PACKAGE
Shine's friendly and experienced staff can deliver a party on a multi-sport theme, or, if your child has a particular love of one sport such as cricket or football, can deliver a specially tailored party with fun games and activities along the chosen sporting theme.
Additionally, we offer BRAND NEW Nerf War Party for children, aged Year 3 and above, who love an action packed day. Geared up with Nerf guns, ammo, and of course safety equipments, tents and obstacles will be set up in the sports hall, children can enjoy a friendly and fun Nerf Guns battle in a safe environment, as well as learning sportsmanship, cooperation and integrity.
Shine Community Sports Hall is an ideal location for children's parties, thanks to the spacious sports hall which provides the perfect indoor area for party games and the first floor party room (with adjoining kitchen) which offers a practical space to cater for the hungry children after their exercise!
The Shine Birthday Party Package is £136.00 for up to 16 children. Additional children are charged at £6.00 per child (up to a maximum of 40) and any outstanding balance should be paid in cash on the day. Our bouncy castle can be included by request for no additional cost!
Contact [email protected] to find out how we can create the perfect party experience.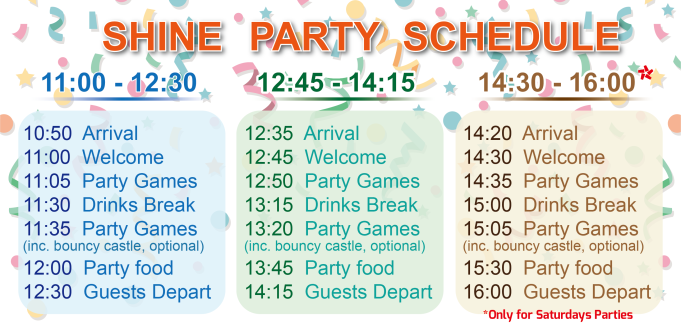 THINGS TO KNOW IN ADVANCE
The maximum number of children is 40 children.
Customers must bring their own party food, drinks and party bags.
1 hours activity
30 minutes in the party room for food
The kitchen is not suitable for cooking, but does contain a kettle, toaster and microwave.

IMPORTANT - Customers are responsible for preparing and clearing away party food and materials.

Children are advised to wear suitable clothing and footwear for a sports themed party.
All sports equipment is provided by Shine unless stated otherwise.
For customers who select the 'forest adventure' option please note that this option is subject to the availability of one of Shine's qualified forest leaders. Please check with us before making the party booking.
"Nerf Gun Party" option is only suitable for children aged Year 3 and above.
If any child attending the party has any special need you feel we should be aware of, please let us know in advance.
Occasionally Shine photographs the activities for marketing purposes. If you would prefer any or all of the children not to be photographed during the event, please let us know before the day.
BOOKING CONDITIONS
In the event of cancellation one month or more before the party date, £40.00 is non-refundable.
Cancellations made less than a month before the party will be refunded apart from £60.00.
There will be no refund for any parties cancelled less than one week before the party.
Whilst there is no minimum number of children, the basic package provides for up to 16 children.
The fee of £6.00 per child applies for any additional places.
Following your booking, Shine shall send an email confirming your details. If you have any queries we would be happy to help and can be contacted by email on [email protected].